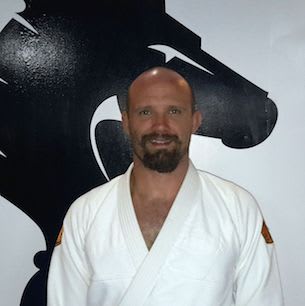 Andrew "The Dude" Dudderar
"The Dude"
Professor
Lineage: Mitsuyo Maeda - Carlos Gracie Sr - Carlos Gracie Jr - Helio Soneca
Professor Andrew Dudderar is a Brazilian Jiu Jitsu Black Belt under Amal Easton of Easton Brazilian Jiu-Jitsu. He is known for being impervious to chokes and for having a strong focus on the mental aspects of training. Despite his intimidating appearance, Andrew has a sincere and inspiring love for helping others achieve their goals in Jiu-Jitsu, and quickly became one of the most beloved teachers in the local community.
Andrew wrestled in high school before going on to play college football. He started training Brazilian Jiu-Jitsu in 1999 under the venerable Rafael Lovato Sr. He moved to Boulder in 2000, and began training with Amal Easton in 2001. After receiving his bachelors degree in Psychology from CU, Andrew moved to Rio De Janeiro, Brazil to live and train at the birthplace of the martial art for two years. Andrew then received his brown belt from the Gracie Barra patriarch, Carlos Gracie Jr. and his black belt from Amal Easton.
Highlights of his competition record include:
2012 Master's World Championships 3rd Place (Black Belt)
2008 World Championships 3rd Place (Brown Belt)
2005 Pan American Championship 2nd Place (Blue Belt)
Request Information
Brazilian Jiu Jitsu
Kickboxing
Kids Martial Arts